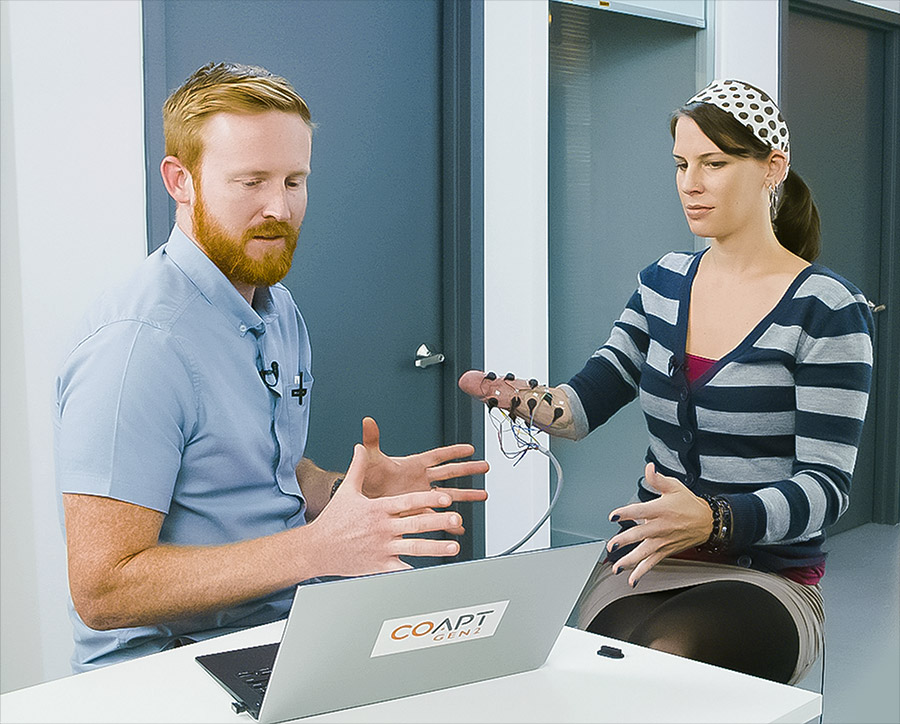 Prosthetic Control
Evolved
For too long, powered upper limb prosthesis users have been stuck with outdated myoelectric control. Users have been limited to using a constrained body language, switches, and triggers to get basic use out of their prostheses.
Fast forward to Coapt where we've evolved modern myoelectric control with pattern recognition machine learning. A myoelectric system that instead learns the intuitive actions from its user, putting them in complete control of their own prosthesis function.
Upper limb difference or amputation no longer equates to being stuck with poor prosthesis control. Through extensive clinical development, user testing, and relevant practitioner studies, we have lifted the old limits on upper limb myoelectric prosthesis control—creating a more intuitive, user-friendly experience that results in greater independence and enhanced function.
Learn about the Academic Background and our Reimbursement Guidance
The power of advanced
pattern recognition
Just like our fingerprints or the iris of our eyes, muscle signal patterns for different arm and hand movements are unique to each of us. Pattern recognition is what translates these patterns for upper limb different or acquired amputees into unpreceded prosthesis control.
Coapt's pattern recognition system learns what is intuitive on a personal level and decodes unique signal patterns in real time, giving users Complete Control of their prostheses.