---
Let's start at the beginning, tell us about the first time you tried Coapt. For example, where were you, who were you with, what was it like, etc.?
The first time I tried Coapt was when I received my first myoelectric prosthetic. I was at my prosthetist's office trying on the new arm that I had waited almost two years for. It didn't take long for me to get accustomed to pattern recognition–I was picking things up within a few minutes! I started to engage muscle groups that I had never used before to create different grip patterns. This helped me understand myself and my residual limb on a much deeper level. It was a really extraordinary experience.
---
Before you used Coapt, what were some of the pain points or difficulties in your day-to-day activities either using other prostheses (if applicable) or just in general living with a limb difference?
For the majority of my childhood, I wore a static prosthetic. However, as I got older, the need for increased functionality became a necessity. The first upgrade I made was to a body-powered cable system. It is very functional, but uncomfortable to wear under my clothes and across my body. This style of prosthetic limits my range of motion, and requires that I manually change my terminal devices to perform different tasks. Coapt allows me to rotate my wrist and seamlessly switch between grip patterns for various tasks, all without having to choose between either hand or wrist motion. I can also wear my arm without any cables or wires under my clothes, which adds comfort and aesthetic appeal. It's like wearing your favorite pair of shoes!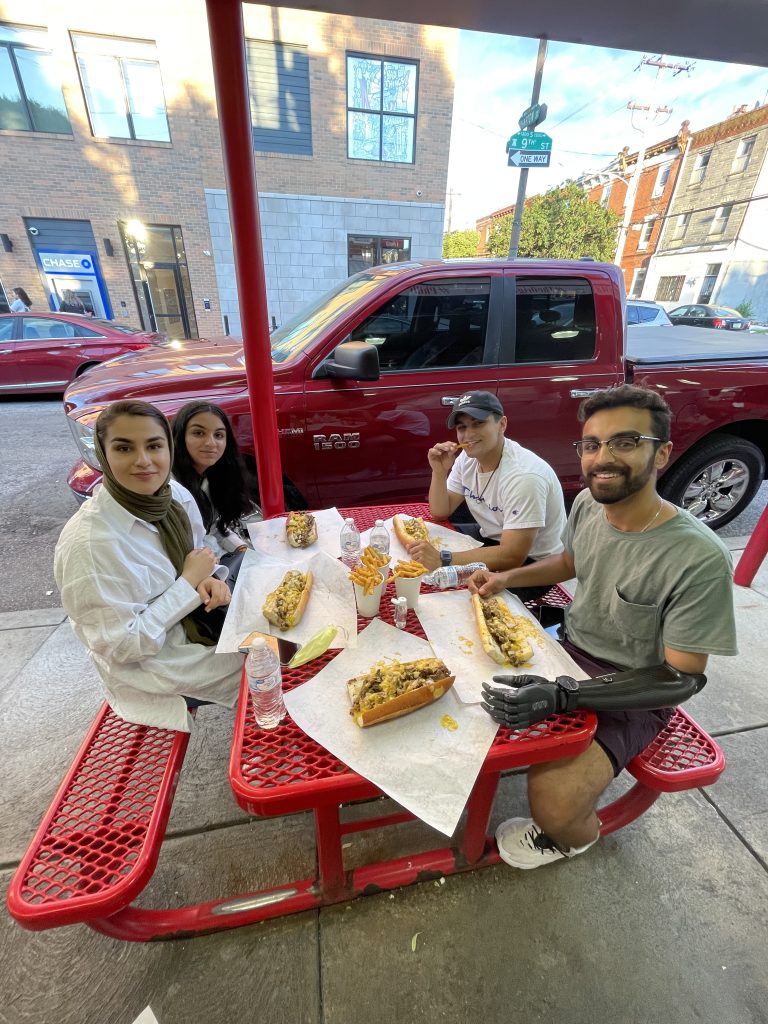 ---
With a Coapt system, what are some ways that your daily routine has changed for the better?
Small tasks that would have been inconvenient for me have become smoother and more efficient. I can naturally hold my wallet while I pull out a card, without fumbling or having to place it a certain way in my prosthesis. I can hold a bag in my hand while I open the trunk. I have fingers to help me type on the computer or push an elevator button. All of these tasks, which may seem trivial to the average person, have become drastically easier thanks to the Coapt system. Small improvements in my life add up to a more streamlined lifestyle and confidence in performing daily tasks.
It has also changed my interactions with people, especially the first time I meet someone. I have found that people feel comfortable bringing up my arm from a position of curiosity about the technology rather than about "what happened". Most people have never seen a prosthetic like this before, which piques their curiosity, and I'm much more comfortable discussing the mechanics of the arm rather than the history of my missing limb. The confidence of having something "futuristic" that is novel to most people has helped me approach intimidating social situations more positively than I would have in the past.
---
What is your most memorable Coapt moment since becoming a Coapt user?
Without a doubt, my favorite moments since becoming a Coapt user were the times I discovered a new muscle movement for each of my Coapt grip patterns. At first, it was very difficult to engage different muscles for each grip pattern, since I had never really used the muscle groups in my residual limb. After weeks of practice, I would discover a new movement of my residual limb muscles that I hadn't been capable of before using Coapt. Each of these new movements unlocked another grip pattern in my Coapt arsenal and, after several months of practice, I had four distinct muscle movements for four different grip patterns.